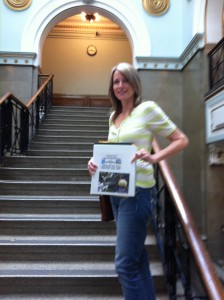 On Friday Gogi and I drove 2 hours across Ohio to the Hocking Hills County Courthouse to obtain a marriage license.
Taking that drive is like a time machine across a land where the memory of Yankees and Rebels charging across the fields to the whistle of grapeshot and booming cannon fire is still vivid.  Corn – corn, I say, as far as the eye can see – and then beyond.
At the courthouse the guard at the door directed us up the marble steps to the second floor.  The vaulted atrium has stood solemn since 1923, when presidents Warren G. Harding and Calvin Coolidge may have delivered speeches from the courthouse steps.
The Hocking Hills area is a lush green world rife with history; a portal into a simpler time. We're looking forward to coming back next week to Old Man's Cave Chalets.